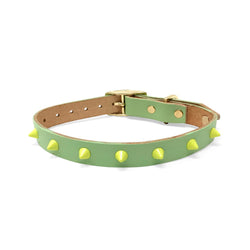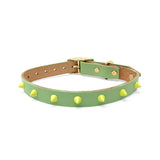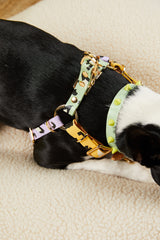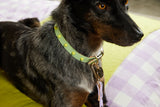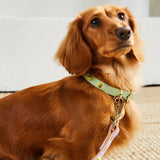 Nice Digs
Smooth Spike Leather Dog Collar-Pistachio
From park to punk rock, the soft spike collar adds the right amount of edge to your pups style. A smooth, family-friendly rounded spike with coloured studs for a fashion forward look. A lightweight hardware yet durable buffalo leather collar. Black Leather and coloured spikes contrast beautifully with gold hardware and the Nice Digs dog charm.
Care:

Leather will patina with time and exposure to the elements. Normal wear will darken the leather as air, light, the oils of your dog's skin, and other environmental factors do their work, eventually developing into a rich tan colour. Prolong the life of the leather and hardware by keeping it away from water & chemicals.  Nice Digs leather collars and leashes are not for swimming or water immersion.
Clean your leather collars and leashes with a soft, damp cloth. Nourish the leather from time to time, with a wax/silicone-free leather conditioner but patch test first before overall application as it may darken the leather.