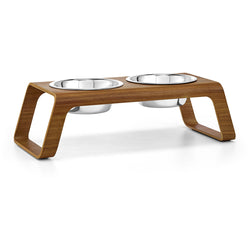 Howl & Growl
Desco Dog Feeder-Walnut
A modern Nordic style dog feeder made from plywood, fitted with two stainless steel bowls. A silicone buffer keeps the bowls in place to avoid rattling whilst your dog eats and slip proof feet stop it moving around. 
 
Sizes:
Medium 58 x 26 x 17 cm (1.3 litre capacity in each bowl)
Large 78cm x 34cm x 24cm (3 litre capacity in each bowl ) 


Care: Wipe with a soft damp cloth or suitable wood polish. Do not use sharp or rough objects or aggressive detergents to avoid scratching the surface. Remove any liquids or wet food right away.
Some discolouration of the surface may occur as it's a natural product, it can warp. To prevent damage do not expose to damp or extreme temperature.