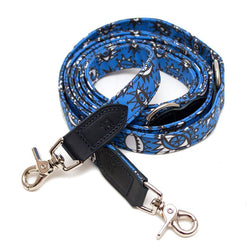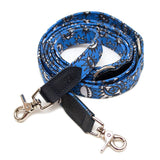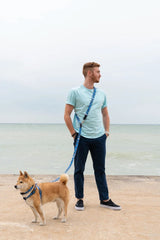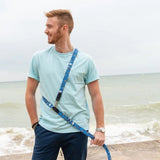 Eyes Handsfree Dog Lead
Luxurious design fabric is inspired by the all seeing eye, a symbol of protection in many cultures, celebrating the loyalty and bravery of our furry friends.
The perfect lead for running with your dog or just walking with your hands full, simply strap the leash across your body and enjoy having both your hands free for all the shopping, telephone calls and coffee drinking your day demands. 
Finished at either end with high quality, anti-opening trigger snap hooks, this design can also be used as a double dog leash. Pull the lead back through the D-ring to create a handle in the centre and then clip to two dogs or use as a shorter lead for one dog.
Just like our 'Cafe' Designer Dog Leads the Hiro and Wolf hands free dog leash can also be used to clip around chair legs, poles and tables to keep your dog safe.
Full Length: 230 cm, but can we worn across body giving 100-130cm length. If using as 2 leads to walk 2 dogs will give length of 115cm.