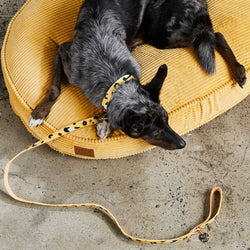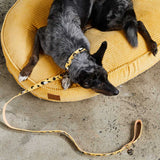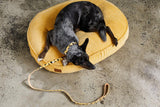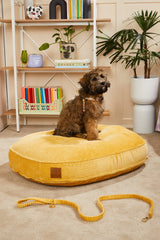 Nice Digs
Jumbo Cord Dog Bed-Butter
Let your pup melt into this thick slice of butter. This luxurious jumbo cord bed harmonises perfectly with modern interiors while reflecting you and your dogs style. 
Cover made of luxuriously soft yet durable cotton jumbo cord and matching corded piping. Beautifully finished with the Nice Digs faux leather logo patch. Features a stylish and durable YKK gold zipper closure so the cover can be easily removed for cleaning.

Inner cushion made of cotton lining filled with siliconised fibre which is anti-bacterial and dust resistant. This creates the coziest of cushions that offers decadent support for your lounging pooch. 
Watson & Nori are chilling on a medium sized bed (pictured).
Care Instructions:

Cover: Simply brush off dirt or spot clean. We recommend a weekly vacuum to remove any hair. If you need to wash the bed, set to a cold machine wash and then air dry flat. Please do not tumble dry. (Cover is 100% polyester)

Inner Cushion: Cold machine wash delicate then air dry flat. Cushion can be dry cleaned.