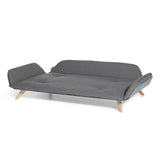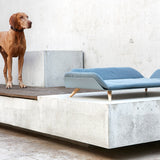 Mia Cara
Letto Dog Sofa
Raising the bar on the modern dog bed.
Your home gets a beautiful (award winning) bed and your dog can claim its own lounger with all the features that encourage a good nights sleep. Crafted to provide comfort, style and durability, the sturdy body of the bed is made from powder coated aluminium (resulting in a virtually indestructible frame). Raised side panels fitted with a made to measure soft mattress that is reversible and fully washable make this bed perfect for any dog that likes to rest its head, curl up in a ball, stretch out head to toe, or dangle a paw on the edge. This bed is made for every sleeping arrangement.
Sizes available: 101 X 69 X 21cm (height at front is 8cm)
Care: Mattress washable at 60ºC (gentle cycle) or dry clean. Air dry on rack. Please do not tumble dry. Vacuum surface to avoid dirt/dust and hairs to ensure a long life for your dogs day bed.