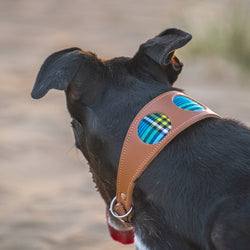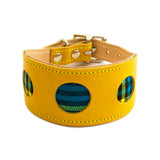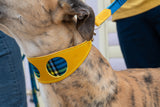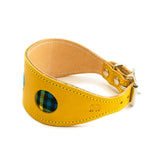 Shuka Blue Hound Collar
A striking collar designed with whippets and greyhounds in mind. The fishtail design prevents the collar slipping over slimmer heads and protects their delicate windpipes. A unique circular cut out design exposing the durable Masai 'shuka' blanket fabric .  
*Note: Leather design is only available in the natural tan colour and NOT the acacia yellow pictured. 
Materials:
Thick vegetable tanned leather
High quality silver buckles and solid D rings, secured by 2 rivets
Designed specifically for small and large hounds such as Italian Greyhounds, Whippets, Greyhounds, Lurchers and Salukis.